Become A Freemason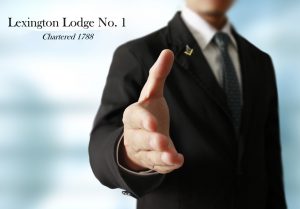 If you have an interest in becoming a Freemason, you have taken your first step in the right direction. Freemasonry can be such a diverse interest and  has the potential for a life long relationship that gives back continually. The beauty of how Freemasonry works is you only need to commit what you want or can, in time and effort. Tasks and roles are never forced upon you.  Although Freemasonry requires commitment, and dedication, you will never be asked to place Freemasonry ahead of family, work, or religion.
Finding a Lodge to join will mostly come down to the location in which you live.  It is encouraged that you visit different lodges in your area, and meet other members, and ask questions to help you determine if taking your first step in Freemasonry is for you.
If you are in the Lexington, KY area and interested in learning more about joining Freemasonry, then Lexington Lodge No. 1 welcomes you to come visit us.
Our Fraternity has and "unwritten" saying of 'Ask one to be one' or ' To be one, ask one', which simply means that we don't believe in recruitment or solicitation of new members.  A Freemason will traditionally never ask you to join, but we happily talk about the many great aspects of Freemasonry.  We believe that the consideration for joining our fraternity should be left up to you without pressure or persuasion.  Quite simply, if you're interested…just ask us.
If you live in Lexington, Fayette County, or surrounding counties and you are genuinely interested in learning more about joining Freemasonry, please make yourself aware of the membership requirements below.
Membership Requirements
Anyone offering himself as a candidate should be at least 21 years of age, with a good reputation, and:
that he sincerely seeks intellectual and moral improvement for himself and others.
that he has a belief in God.
that he is able to afford the necessary expenditure without detriment to himself or his connections. Financial ability to pay reasonable lodge membership dues and contribute to charity, without having an adverse impact on his family.
that he is willing and able to devote part of his time, his means and his efforts, to personal self improvement through our ancient traditions. To make a commitment to attend Lodge meetings, socials, and events.
that he will never seek personal financial, political, or social gain from his membership.